Our minibus hire branch in Paris-Ouest (Conflans)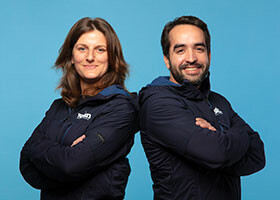 Details
40, rue Eiffel
78700 Conflans-Sainte-Honorine
Getting there
Branch opening hours
(may differ from online reservation times)
Lundi - Samedi : 09:00-13:00, 14:00-18:00
Dimanche et Jours fériés : sur rendez-vous
Useful information about your branch
---
Our fleet of minibuses rental in Paris-Ouest (Conflans)
---
Rent a minibus in Paris-Ouest (Conflans)
"Does everyone have their ticket?" "Which line do we take to get to Disneyland?" "Wait a sec, Jean-Claude got his trombone stuck in the turnstile." These are just a few phrases regularly heard on public transport in the Paris region. But you'll never have to utter such things yourself if you opt for minibus hire in Paris-Ouest.
​While Paris and its surrounding areas have excellent transport service on various rail networks (metro, RER, tramway, etc.) and motorways, certain occasions sometimes require a more tailored solution, such as for logistical, image or comfort reasons. These occasions are the perfect opportunity for minibus hire in Paris-Ouest. It's hard to imagine asking professional business partners arriving by plane to take public transport from airports in the Paris region. Ideally located near Cergy, close to the N184 and A15, the departure point for your 9-seat minibus hire in the Yvelines will enable you to efficiently reach your meeting place. This is also true for all the train stations within Paris, since the capital is just a 30-minute drive away.

And while a 9-seat minibus hire in Paris-Ouest is an excellent professional solution, it will also simplify your family trips. A day at Disneyland can be quite a logistical nightmare when you also have to keep a close eye on your little troop during the trip before all the fun begins at the park. You can easily spare yourself from this stress with minibus rental in Paris Cergy. Finally, continuing the theme of practicality, minibus hire in Paris-Ouest is ideal for anyone who needs to get around the capital and surrounding areas with lots of equipment. Whether you're transporting your equipment from one filming location to another, or your musical instruments from the Olympia to the Stade de France (why not dream big), minibus hire at Paris Ouest in the Yvelines is a comfortable, safe bet. And since we're talking about stadiums, clubs and other sports associations or fans can also take advantage of minibus hire in Cergy for their frequent trips. Choose your vehicle from our minibus fleet: 7-seat minibus, 8-seat minibus or 9-seat minibus. There's a minibus rental for every group size!