Our minibus hire branch in Bordeaux
Details
10 rue Galilée
33185 Le Haillan
France
Branch opening hours
(may differ from online reservation times)
COVID-19 EXTRAODINARY CLOSURE
Monday : closed
Tuesday - Thursday : closed
Friday : closed
Saturday : closed
Sunday and public holiday : closed
Useful information about your branch
---
Our fleet of rental Minibuses in Bordeaux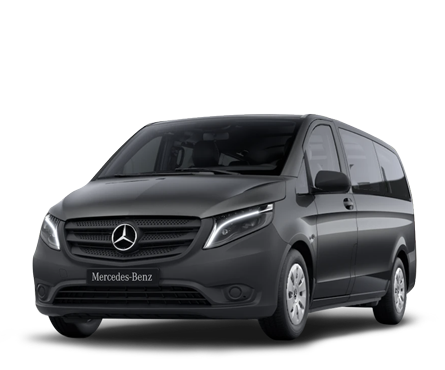 Mercedes Vito A.
Minibus 9 seats Automatic | LVAR
9 A 9 1
See full details
Mercedes Vito Luxe
Minibus 8/9 seats Automatic | WVAR
8/9 A 8 2
See full details
---
Rent a Minibus in Bordeaux
We-Van Bordeaux, located in central Gironde, offers seven-passenger vehicles, eight-passenger luxury vehicles and nine-passenger minibuses. Your Bordeaux minibus hire agency is located less than 30 minutes from the Bordeaux-Saint-Jean train station. We have well-known brands like Volkswagen and Mercedes that will be ideal for wine industry professionals, as well as anyone else who needs to transport passengers. We aren't afraid to say it: Bordeaux is the world's wine capital and, as such, attracts many operators who regularly come to visit their winemakers and attend workshops or conferences such as Vinexpo, the biannual high point in the world of wine and spirits.
Professionals aren't the only ones who want to visit the source of Bordeaux's grand wines. Wine lovers also appreciate the opportunity to deepen their knowledge and explore the Bordeaux châteaux of Médoc, Graves, Saint-Emilion, Côtes de Blaye and Sauternes. Visiting the recently opened Cité du Vin museum in Bordeaux, then driving Bordeaux's Wine Routes in a rental minibus is the ideal way to travel with friends and have a great time together in a minibus. All you need is a category B driving licence. The We-Van Bordeaux agency offers a range of minivans and minibuses for hire, including nine-passenger Volkswagen Transporters and eight- or nine-passenger Mercedes Vitos. And those who want to explore the beautiful city of Bordeaux, regional capital for Nouvelle Aquitaine, can wander along the banks of the Garonne river in their rental minibus, head to the Place de la Bourse or cross the Pont de Pierre. They can even take a jaunt to La Rochelle, Ile de Ré or Arcachon Bay and Cap Ferret to sample seaside dishes like oysters and other seafood. Bordeaux is also surrounded by many departments filled with a wealth of tourist destinations. Departments include Gironde, Landes, Pyrénées Atlantiques, Charente-Maritime, Dordogne, Lot and Garonne.
In addition to wine, Bordeaux's lifestyle also includes music, concerts and theatre performances in various venues such as the prestigious Opéra National de Bordeaux, the Bordeaux Métropole Arena, the Grand Théâtre and many more. Actors and performers that are part of this scene often use minivans for transport, including production companies, groups of musicians or theatre troupes. The We-Van Bordeaux agency meets their minibus transport needs, providing personalised service and a range of rental minibuses with the features they're seeking. Our larger vehicles with long wheel-bases can accommodate a group of musicians, as well as their luggage and instruments.
The We-Van Bordeaux agency team's specialists are there for you to answer your questions and offer personalised advice and services.