Our minibus hire branch in Le Mans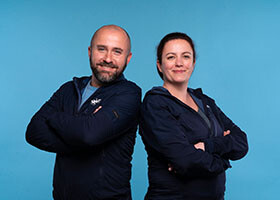 Details
13 Bis A, rue Michael Faraday
72100 Le Mans
Getting there
Branch opening hours
(may differ from online reservation times)
Monday – Saturday : 09:00-12:30, 12 :30-18 :00
Sunday and Public holiday : by appointment
---
Our fleet of minibuses rental in Le Mans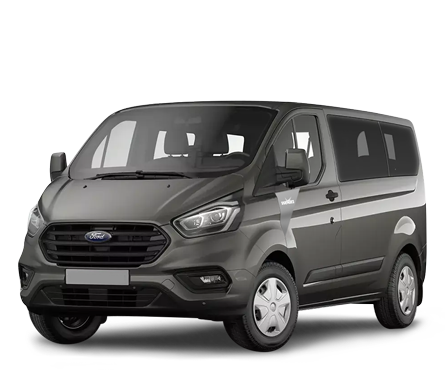 Ford Transit Custom Kombi
9 seat Minibus Hire
9 A/M 9 1
See full details
---
Rent a minibus in Le Mans
All roads lead to Le Mans, as the saying goes (adapted for obvious reasons). And assuming they're two lanes, all roads also lead from Le Mans. Except for the famous loop, not far away, which we recommend you avoid in a people carrier. All the others, though, are wide open with minibus hire in Le Mans.
It's difficult, if not impossible, to mention the capital of the Sarthe department without immediately thinking about the mythic 24 Heures du Mans. And what better way to get there than with minibus hire in Le Mans? None, we can all agree. Minibus rental in Le Mans lets you travel with a group of your friends, simplifying parking logistics once you arrive, something you'll definitely appreciate at such a large gathering. 7 seat minibus hire or 9 seat minibus hire in Le Mans will simplify your entire weekend.
Minibus hire in Le Mans is also for people who love other sports, especially fans of MSB (Le Mans Sarthe Basket, for those who don't know), who will take advantage of this to cruise around France following their favourite teams to away games. Plus, minibus rental in Le Mans gives you access to a range of vehicles ranging in size from 7- to 9-seat minibuses. They're comfortable and roomy, so luggage, trumpets, air horns and an ice chest for rillette sandwiches (just the essentials) will easily fit into your minibus hire.
If you're interested in a more cultural trip, remember that minibus hire in Le Mans puts you just an hour from the Loire Valley. Minibus rental in Sarthe is a great opportunity to take your kids (and a few of their friends) on an unforgettable visit to luxurious chateaux in the Loire, including those in Chambord, Chenonceau, Amboise, Blois and Azay-le-Rideau. Of course, you could always leave the kids with their grandparents and use minibus hire in Le Mans for a different kind of visit to the Loire Valley, wandering from vineyard to vineyard on the search for the best vintages in the region.
Finally, if you already know this area like the back of your hand, minibus hire is perfect for organising adventures further away. Head to Normandy's history-filled beaches, Brittany's incredible landscapes or simply the Paris area and its museums and/or amusement parks – they're all accessible with minibus hire in Sarthe.