Our minibus hire branch in Paris-Nord (Roissy)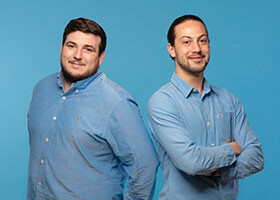 Details
3, rue du Grand Puits
95380 Villeron
Getting there
Branch opening hours
(may differ from online reservation times)
Monday - Saturday : 9 am- 6 pm
Sunday and public holiday : By appointment only.
---
Our fleet of minibuses rental in Paris-Nord (Roissy)
---
Rent a minibus in Paris-Nord (Roissy)
It's rare that a trip ends in the airport, although we can never say never. However, usually it's one logistics step in the gymnastics of a (hopefully) well-oiled trip that includes picking up your bags, going through customs, finding a vehicle large enough for your entire group or hopping onto public transport with questionable alacrity, if not elegance. Streamline this whole routine with minibus hire at Paris-Nord Roissy Charles de Gaulle. You all travelled together on the plane in reasonable comfort, so why not continue your trip in the same (or even better) conditions. All you have to do is hire a people carrier at Paris-Nord Charles de Gaulle. When you opt for a 7-seat minibus hire, an 8-seat minibus hire or a 9-seat minibus hire, you can rest assured that all our models will keep your passengers comfortable and have lots of space for luggage so you can exit the plane without stressing about the next steps.

Minibus hire in Paris-Nord Roissy Charles de Gaulle is the winning solution for group travel, although we won't hold it against you if you choose something else (although we will judge you). Groups and expat families will find people carrier hire at Paris-Nord Roissy CDG to be an excellent way to travel around France visiting their loved ones scattered here and there throughout the country. A very practical choice for individuals, minibus hire at Paris-Nord Roissy Charles de Gaulle is also an essential service for professionals. When you're hosting important business partners, make the best impression with high-end minibus rental like a Mercedes V-Class minibus hire, the standard in this industry. It's great for business transport, as well as for taking your visitors for an evening out in Paris once the working day is over.

Finally, minibus hire at Paris-Nord Roissy CDG also solves hybrid transport needs for groups that need to carry lots of gear. With a fleet of people carriers that provide passenger comfort and well-designed cargo space, professionals like photographers, videographers, production companies and musicians will find that minibus rental at Roissy Charles de Gaulle is an excellent alternative for getting from one shoot to another or from one concert venue to the next. There really are no good reasons not to opt for minibus hire at Paris-Nord Roissy Charles de Gaulle.