LES + WEVAN
Join a network with huge potential
WeVan continues to develop in France
whilst still staying on course and holding on to is values.
100% independent
40 % annual growth
13 years in business
700 vehicles
34 agencies in France
40,000 customers
Participate in a shared adventure
Like vanlife, being an entrepreneur is an adventure in its own right! According to a study by BPI Lab, more than half of managers of independent SMEs faced feelings of loneliness and isolation.
With WeVan, the business adventure is shared. You join a team of experienced professionals who you can share your daily problems with, contact when you want and collaborate on joint projects.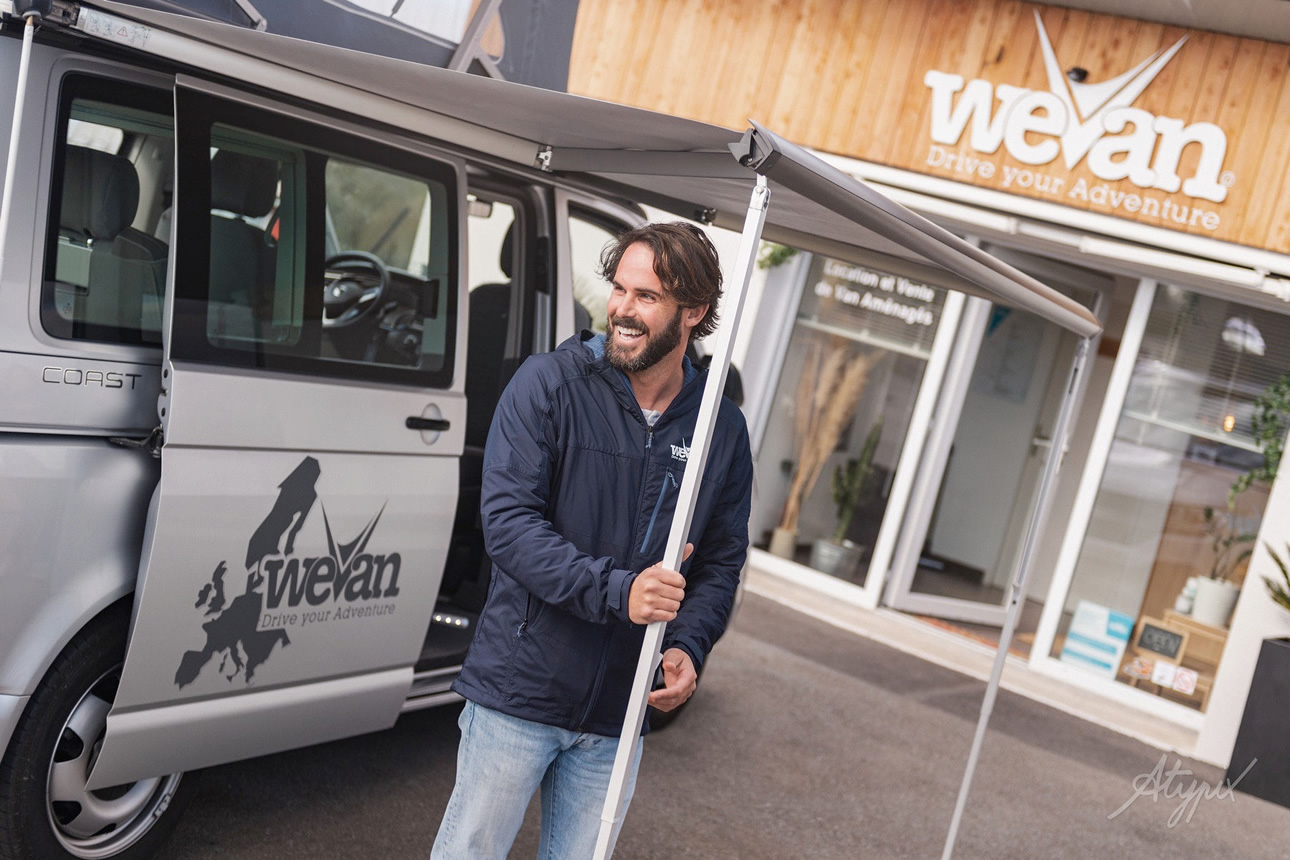 Run a diverse fleet of vehicles
As we aim to be referred to as the campervan specialist, WeVan works with different partners in order to have an extensive range of campervans which are representative of the market.
WeVan works uniquely with new or very recent (under 2 years old) vehicles and that has several advantages:
comfort, peace, safety for customers;
low maintenance and ownership costs (TCO);
better resale of vehicles at the end of the season.
We-Van has exacting specifications: the vehicles must fulfil essential criteria, combining performance, reliability and comfort. As we are aware that these are the prerequisites to guaranteeing success in the rental and resale market, We-Van has developed business partnerships with the best manufacturers and developers in the sector.
And for reselling vehicles from franchisees, the new wevan-market.com site is a precious tool.
Relying on high performance IT management tools
The job of a WeVan manager is varied (managing their fleet, the rental and sale of campervans, customer service) and one of the challenges is making good decisions at the right time in order to develop their business.
For this purpose, the WeVan network has implemented powerful IT tools to help with management and decision-making to analyse, anticipate and improve their business.
Benefit from tailored support
From its creation, the franchisee benefits from the knowledge and expertise of the WeVan brand. You will be supported so that you can fully understand your mission and flourish under the best conditions during all the stages of your agency's development (before/during the creation of the company and throughout the whole of the contract period).
In order to understand all the aspects of the job of being a WeVan manager, you will undertake initial training before opening your agency. Then, based on your expectations and needs, WeVan will provide you with personalised support.
Benefit from already established partnerships
The business of campervan rentals requires working with different, essential partners.
WeVan negotiates national framework-contracts with their key partners:
automobile manufacturers;
bodybuild fitters;
insurers;
banking institutions.
These negotiations are essential so that you, as a franchisee, can conduct your business under the best conditions.
Benefit from an innovative and ambitious marketing plan
The We-Van network can take advantage of tools for directly or indirectly growing its clientèle. From reputation to performance, WeVan is there throughout the whole of the customer journey through efficient digital means and business generation (rental and sales websites, social networks, publicity campaigns, newsletters, blogs, book collections).
Each franchisee agency has an effective online space on the national we.van.com reservations site which is visited frequently, including by people abroad.
We-Van has created a specific, relevant communication style to reach our target audience by encouraging them to live their own adventure, an adventure that's accessible to everyone.