Our minibus hire branch in Grenoble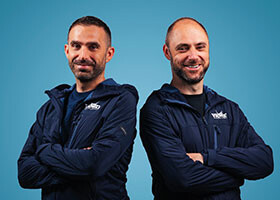 Details
68, rue des Taillées
38400 Saint-Martin-d'Hères
Getting there
Branch opening hours
(may differ from online reservation times)
Monday-friday : 09:00-13:00, 14:00-18:30
Saturday : 09:00-13:00, 14:00-17:00
Sunday and public holiday : closed
---
Our fleet of minibuses rental in Grenoble
---
Rent a minibus in Grenoble
It's pretty quick and easy to get to Grenoble from Lyon and Geneva. And it's not even that far from Marseille. It has an excellent location that makes this capital of the Alps (as it's nicknamed in France) a required stop for anyone who wants to visit the surrounding peaks or more of the world-famous mountain chain. And nothing is better for that then minibus hire in Grenoble, available in summer AND winter.
Located at the foot of the Alps, Grenoble sits at the crossroads of Europe. And thanks to the motorway network serving the city, getting to strategic points like the Lyon-Saint-Exupéry airport, the Valence-TGV train station or the Geneva airport will only take a couple of hours. Hire a minibus in Grenoble and you'll immediately make professional group transportation much easier. Pick up the vehicle and then head out with your colleagues in the most comfortable conditions.
Video and photo professionals and amateurs alike will benefit from minibus hire in Grenoble. It's the perfect solution for exploring the incredible settings in the surrounding landscape. When you hire a minibus in Grenoble, you can lug around all your equipment and your models (and their stuff) for endless shoots in the Chartreuse or Vercors mountain ranges or at the most beautiful resorts in the area like Alpe d'Huez, Deux Alpes or Chamrousse.
By the way, people carrier hire in Grenoble is also very practical for spending a few days, or weeks, on your favourite sport activities. It'll be easy to bring your skis (with an added roof rack if necessary) or your mountain bike (using a bicycle rack) to tear down the Alpine slopes with friends or family. All this without compromising space for luggage and passenger comfort.
Plus, minibus hire in Grenoble is also the perfect mode of transport for getting to all the events that bring this area to life. Whether you're headed to a sporting event like Le Grand Bornand, the biathlon world cup stage in Annecy, or other gatherings that take place at Alpexpo, Alpes-Congrès and Le Summum for concerts, there's always a reason to hire a minibus in Grenoble for leisure or professional purposes.