Volkswagen California Minivan M.
Minibus 7 seats Manual | GVMR
7 M 5 1
The 7-seat California Beach T6 minivan is a high-end hybrid vehicle that follows all the rules for passenger transportation and does so in style with an extraordinary interior design.
<
>
Volkswagen California Minivan M. hire in detail
WeVan features
With the 7-passenger version, the Volkswagen California Beach T6 has become more than just a high-end leisure vehicle. It's become an excellent professional option for the passenger transportation industry, similar to the Volkswagen Multivan T6.
The Beach 7-seat minibus' interior modularity puts it on par with leading mobility vehicles, especially with the ability to configure the passenger space into a lounge. It provides 4 independently-adjustable seats, one 3-seat bench, as well as a large trunk or a passenger lounge area. And, if it turns out only 5 people are going on the trip, a work table can easily take the 2 extra spots!
While renting a 7-seat California Beach will be especially useful for those in the passenger transport industry, it's also perfectly responsive to the needs of all professionals whose work depends on mobility. This includes photographers, production companies or musicians who will appreciate being able to work from their vehicle. With just a simple push, you can open the expandable roof to make room for a 2-person bed or space to stand up. And, like all vehicles in this class, the California Beach's height is below 2 m and therefore qualifies it for the light vehicle rate at tolls!
Other Minibuses
Discover other minibus models for hire that could also suit your needs
Toyota Proace Minibus 9 seats Manual | PVMR
9 M 9 2
See full details
Mercedes Vito M. Minibus 9 seats Manual | LVMR
9 M 9 1
See full details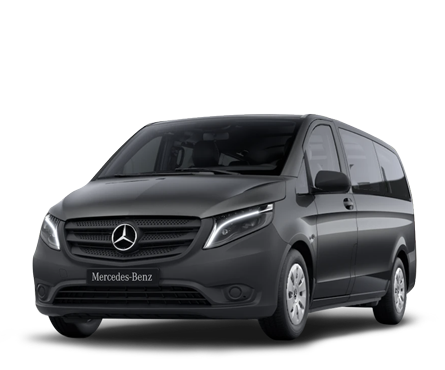 Mercedes Vito A. Minibus 9 seats Automatic | LVAR
9 A 9 1
See full details