Our minibus hire branch in Paris-Nord (Roissy)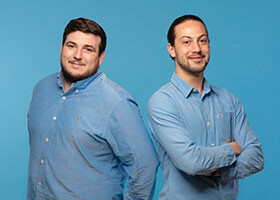 Details
3, rue du Grand Puits
95380 Villeron
Getting there
Branch opening hours
(may differ from online reservation times)
Monday - Saturday : 9 am- 6 pm
Sunday and public holiday : By appointment only.
---
Our fleet of campervans rental in Paris-Nord (Roissy)
---
Hire a campervan in Paris-Nord (Roissy)
Without being too capital-centric (if such a word exists... if not, we've just fixed that issue), Paris's excellent geographic location makes it the ideal departure point for all your trips to southern, northern or eastern Europe. Take it a stretch further (after a bit of a warm-up so you don't injure yourself) with campervan hire at Paris-Nord Charles de Gaulle and open the door to all kinds of adventures in cold or hot weather anywhere in France, as well as the rest of the continent.
By the way, there's no need to drive thousands of kilometres to enjoy the sweet sensation of freedom that goes along with campervan hire at Paris-Nord Roissy Charles de Gaulle. Just a few dozen minutes on the road will take you to the French Vexin regional natural park or the Compiègne forest for a peaceful escapade in nature. Conversion van hire at Paris-Nord Charles de Gaulle also puts you steps away, so to speak, from incredible monuments like the Chantilly chateau and its must-see Great Stables.

Opting for campervan hire at Paris-Nord Charles de Gaulle lets you immediately head off in any direction. Our close proximity to many major motorways means you can get to the Atlantic coast in just a few hours and breathe in that sea air throughout your road trip from Brittany to Basque Country. Aboard your campervan hire, you'll go from beach to beach to find the best surf spots or from park to park and woodland to forest in search of complete calm for the night.
If you're more interested in mountain ranges than Atlantic sea spray, conversion van hire at Paris-Nord Roissy Charles de Gaulle is also a good solution for heading out to the Vosges and Ballon mountains in the east, the Massif Central or the Alps. Rather than your surf gear, you'll want to take mountain bikes (bicycle racks available at your agency), hiking boots or even kayaks or skis (trickier on a bicycle rack, but if that doesn't work, we also have roof racks). Campervan hire at Paris-Nord Charles de Gaulle.

No matter what plans you have – a weekend road trip or several weeks of adventure in France or abroad – it goes without saying that the location of the WeVan campervan rental agency at Paris-Roissy Charles de Gaulle is absolutely perfect, whether you live in the area or get off the plane with your luggage and jump into one of our Volkswagen California or Mercedes Marco Polo campervans. There's a campervan hire for everyone, whether it's a 5-berth campervan, a Volkswagen campervan with automatic transmission or a campervan with pop-up roof.

Our team of professionals at the WeVan Paris-Nord Roissy Charles de Gaulle campervan hire agency will be happy to help you plan your next campervan road trip.