Our minibus hire branch in Compiègne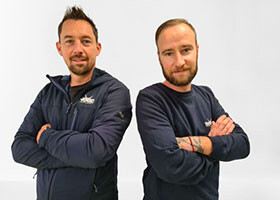 Details
1491, avenue Octave Butin
60280 Margny-Lès-Compiègne
Getting there
Branch opening hours
(may differ from online reservation times)
Monday-friday : 09:00-13:00, 14:00-18:30
Saturday : 09:00-13:00, 14:00-17:00
Sunday and public holiday : closed
---
Our fleet of campervans rental in Compiègne
---
Hire a campervan in Compiègne
Campervan hire in Compiègne opens doors to those who love nature and history, for visits to thick, luxuriant forests, wild beaches and historic monuments of all kinds that bear witness to an extremely rich past. Just what you need for a timeless escape. For many, campervan hire in Compiègne means enjoying idle pleasures in peaceful company (we'll give you that geographic pun for free) since this region is filled with heart-healing calm. Right after picking up your campervan at the conversion van hire agency in Compiègne, you can head straight to the forest of the same name, where you can cruise from one end to the other looking for little meadows perfect for taking a break with the gentle sounds of nature as your soundtrack. Take advantage of campervan hire in Oise and this forest itinerary to step back in time with a visit to Clairière de l'Armistice, the clearing where France and its allies signed the precious treaties with Germany in 1918 and 1940.

In the same vein, with your campervan hire in Compiègne in the Oise department, you can also cruise the legendary Chemin des Dames that winds through Laon, Soissons and Reims. You'll make frequent stops since this route is packed with points of interest and historical attractions. With your rented conversion van, fairly quickly you'll be able to complete an itinerary exploring the countless battle sites dating from the Roman occupation to World War I. If history lovers are hungry for more, they can spend time visiting the many monuments dotted across Picardy, like the imposing Pierrefonds chateau and, of course, the Compiègne chateau. For those who are more interested in sea breezes, campervan hire in Picardy puts you less than two hours from the banks of the English Channel where you'll find the incredible beaches at Fort-Mahon-Plage and Le Crotoy, as well as Le Touquet a bit further north. Load your surfing and swimming gear into your rented campervan and head to the invigorating waters of the English Channel or get out your windsurfing, kitesurfing or land sailing gear for an adrenaline rush.

There's no reason to stay within French borders for your adventure starting with campervan hire in Oise. Once in your van, it will only take you a few hours to reach England, Scotland or Belgium... or even Denmark, Norway or Sweden if you're feeling adventurous. Choose your van from our campervan fleet: a Volkswagen campervan, campervan with pop-up roof or campervan with automatic transmission. There's a campervan rental for everyone!

Our team of professionals at the WeVan Compiègne campervan hire agency will be happy to help you plan your next van road trip.