Our minibus hire branch in Perpignan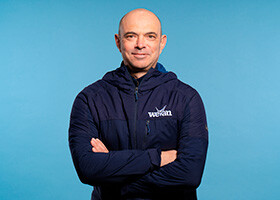 Details
123, rue Étienne Bobo
Z.I Polygone Nord
66000 Perpignan
Getting there
Branch opening hours
(may differ from online reservation times)
Monday to Saturday: 9:00 a.m. to 6:00 p.m.
Sunday & holidays: closed (Departures and returns possible by appointment)
Useful information about your branch
---
Our fleet of campervans rental in Perpignan
---
Hire a campervan in Perpignan
The We-Van Perpignan agency makes it easy to set off at your own pace to explore the Occitanie region, the Pyrénées and Spain in a rental campervan. Our four- and five-passenger Volkswagen California vans are the best-known vehicles in the vanlife universe.
You've finally made it to your departure day. The We-Van team will give you detailed explanations of how your mini camper functions. All you have to do is turn the key and set off on your adventure. The Pyrénées Orientales department is in France's far south and boasts 300 days of sun per year, a considerable advantage for the many campervan road trip possibilities in the Occitanie region. The Languedoc-Roussillon coast is just half an hour from the We-Van Perpignan agency. Seaside resorts there include Sainte-Marie la Mer, Port-Bacarès, Leucate, and Port la Nouvelle in Gruissan. Nautical sports fans will be in heaven with all the kite surfing, windsurfing and swimming options. When the day's done, unfold your campervan's outdoor table and sample some Leucate or Bouzigues oysters paired with Picpoul de Pinet, a local white wine. Speaking of wine, budding or experienced oenologists can take the Wine Route that runs through the Tet, Agly and Tech valleys. History buffs will appreciate the mysterious Cathares chateaux, Carcassonne and its ramparts, the Vauban fortress, Villefranche-de-Conflent and Mont-Louis, as well as the many religious edifices like the Saint-Michel de Cuxa and Saint-Martin du Canigou abbeys. Canigou mountain, which towers over Perpignan, is a hotspot for hiking in the Pyrénées. It has earned the Grand Site de France label for its wealth of natural resources. Mountain sports fans can do all their favourite activities: rafting, climbing, mountain biking, fishing and paragliding…plus winter skiing at resorts in Font-Romeu, Angles or in Andorra. Campervans hired from We-Van Perpignan feature auxiliary heating, making them a warm little nest.
If you head south, you can drive your van along the Vermilion Coast to where the Pyrénées meet the Mediterranean, exploring its coves, little ports and towns like Collioure, Port-Vendres and Banyuls-sur-Mer. Cross the Spanish border to explore the many sites along the Costa Brava: the town of Cadaquès, which is near the Dali home/museum in Port-Lligat; the Parque natural del Cabo de Creus and the impressive Sant Pere de Rodes and Montserrat monasteries. Make a stop in Barcelona to enjoy its exceptional ambiance, following in the footsteps of the great architect Gaudi at the Sagrada Familia and in the Park Güell. Continue your Spanish campervan adventure to Tarragona, Valencia and Alicante before arriving in Andalusia, with its olive-covered hills, white-washed villages and towns with well-known reputations, including Sevilla, Granada and Córdoba.
Our team of professionals at the We-Van Perpignan rental agency will be happy to help you plan your next campervan adventure.