Our minibus hire branch in Clermont-Ferrand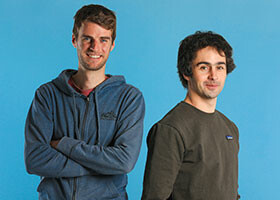 Details
36 Bis, rue de la Chaloux
63870 Orcines
Getting there
Branch opening hours
(may differ from online reservation times)
Lundi au dimanche 9h-18h
| visites sur RDV uniquement
---
Our fleet of campervans rental in Clermont-Ferrand
---
Hire a campervan in Clermont-Ferrand
Spring, summer, autumn, winter: it's never a bad season to go on a campervan adventure. And thanks to your campervan rental agency in Clermont-Ferrand, you can now take that adventure to France's Auvergne region! With a great central location in the mountains of Auvergne, our campervan hire agency in Clermont-Ferrand allows you to explore a region with incomparable natural beauty. From there, you can go anywhere in France for a campervan adventure with no limits but your own imagination. So, it's up to you whether you want to spend your time exploring the area of the Puy de Dôme volcano or look further afield and go anywhere and everywhere in France and Europe.
Hiring a motorhome in Clermont-Ferrand is the ideal way to get the most out of this fantastic, multifaceted region. For example, when you hire a campervan in Auvergne, you can visit any of the numerous nature reserves of the Massif Central mountains, including, of course, the Volcans d'Auvergne regional nature reserve, a favourite spot for avid hikers. Or how about the Millevaches regional nature reserve in Limousin? Or the Livradois-Forez reserve not far from there? Both are world-class sites for all sorts of outdoor activities, from walking to mountain biking. Your WeVan campervan hire agency in Clermont-Ferrand, in France's Puy-de-Dôme department, is the ideal jumping-off point for any number of excursions, from the Valley of Chaudefour to the Cantal and Sancy mountains. And let's not forget the famous Vulcania amusement park! You'll find adventures all year round.
But renting a campervan in Auvergne is not just for those who want holidays filled with adrenaline-charged activities. Hiring a Volkswagen California or Hanroad Trek 5 van in Clermont-Ferrand allows travellers who want to take it easy to go from one point of interest to the next, visiting hot spring resort towns like Vichy and La Bourboule… or stocking up on all sorts of regional products, like authentic Cantal cheeses, and then finding a quiet spot to taste those delicacies under the stars.
Finally, the central location of the campervan hire agency in Auvergne makes it the ideal starting point to your adventures all over France. The major motorways near the agency allow you to quickly reach the Atlantic and Mediterranean coasts, or other incredible spots like the mountainous region of Cévennes or the Tarn, Jonte, and Ardèche river gorges. Easy to drive on both small and big roads, the VW California van offers maximum comfort and will take you anywhere in France, or even Europe for an international getaway. Hiring a campervan in Clermont-Ferrand guarantees a fantastic adventure, whether it be short, medium, or long in distance, and whether you're travelling alone, as a couple, as a family, or in a group of friends. Our Volkswagen California and Hanroad Trek 5 converted vans for hire offer you all of the comfort you need while on the road so that you can get those "vanlife" moments. What's more, we offer various add-ons for even more convenience.
Our team of professionals at the WeVan Clermont-Ferrand campervan rental agency will be happy to help you plan your next van road trip.