Our minibus hire branch in Rouen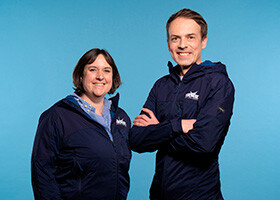 Details
35, rue Charles Lindbergh
76520 Boos
Getting there
Branch opening hours
(may differ from online reservation times)
Monday-friday : 09:00-12:00, 14:00-18:00

Saturday : by appointment

Sunday and public holiday : closed

Useful information about your branch
---
Our fleet of campervans rental in Rouen
---
Hire a campervan in Rouen
We know from experience that it's hard to resist the call of adventure. The question is, though, where do you start? What if you were to begin your next excursion right now? Your campervan hire agency in Rouen is the perfect starting point for exploring all of Normandy! Specialising in campervan rentals in Normandy, we can offer you a full range of campervans and motorhomes for hire. Our vans are "tiny houses" on wheels. In Rouen, you can hire, for example, a Volkswagen California, a Mercedes Marco Polo, or a motorhome to go on an exciting adventure exploring the little coastal roads of Normandy's Seine-Maritime, Calvados, and Manche departments. Inland, take your campervan into the heart of the backcountry on an expedition through the Pays d'Auge and beyond, where you'll find a bucolic countryside dotted with classic Norman villages like Giverny. Hiring a campervan in Rouen is also the best way to pursue your favourite outdoor activities while taking advantage of everything Normandy has to offer: hiking, cycling, horse riding, kitesurfing, sand yachting, and much more… Do you feel a great adventure calling you? From Le Havre or Caen, anyone can cross the English Channel in a campervan to explore the United Kingdom or Ireland. For the most adventurous explorers, the charming roads of the British countryside will take you right to the heart of the Scottish Highlands in your campervan!
Located right near the Rouen-Vallée de Seine airport and just one hour from Paris, Caen, and ferries to the United Kingdom, your campervan rental agency in Rouen is the ideal jumping-off point for your road trip in a van to discover all of Normandy and beyond. Start your journey in Rouen, a city with a rich heritage, filled with art and history, and also the gateway to the Boucles de la Seine Normande regional nature reserve. Whether you're travelling as a couple, a family, or a group of friends, hiring a campervan in Rouen allows you to explore a whole new side of the Normandy coast, with its long list of emblematic sites that have made the region famous worldwide. Travel through the seaside towns of Cabourg, Houlgate, Deauville, Trouville, and Honfleur to reach Caen, the famous D-Day landing beaches (Omaha Beach, Utah Beach), the Mulberry harbour in Arromanches, and the American memorials and cemeteries. When you hire a campervan in Normandy, you can travel all the way from the Côte d'Opale in the north down to the Baie de Somme national nature preserve, the Côte d'Albâtre, and the superb cliffs of Étretat. If you hit a day of bad weather, don't despair! Take advantage to park your campervan and explore on foot the city of Le Havre, a UNESCO World Heritage site. To the south, you'll find the Côte Fleurie and then the Côte de Nacre.
Discovering the wild and authentic Cotentin peninsula in a campervan is like getting a taste of Ireland or Scotland just two hours from Rouen. It's guaranteed to please lovers of hiking with its exceptional GR hiking trails. Last but not least, when you rent a campervan in Rouen, you can travel right to the border of Brittany and wander the narrow streets of the famous Mont Saint-Michel, which, as the French saying goes, "the Couesnon River, in its madness, placed in Normandy"!
Cheese lovers can round out their perfect campervan road trip by stopping to try authentic Camembert, Livarot, and Pont-l'Évêque cheeses where they're made. To help you make the most of your adventure, your WeVan Rouen branch offers campervans with lots of amenities, like built-in kitchens and refrigerators. That way, you have everything you need to discover the joys of Normandy, offering so much more than beaches… Just don't forget your cheese in the campervan when you return it in Rouen!
The team of professionals at the WeVan campervan hire office in Rouen will be more than happy to help you plan your next road trip in a van.