Our minibus hire branch in La Rochelle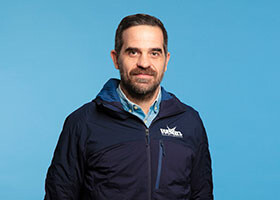 Details
16 Bis, rue le Corbusier
ZAC de Belle Aire
17440 Aytré
Getting there
Branch opening hours
(may differ from online reservation times)
Branch opening hours
(may differ from online reservation times)
Monday : 09:00-13:00, 14:00-18:00
Tuesday - 09:00-13:00, 14:00-18:00
Friday : 09:00-13:00, 14:00-18:00
Saturday : by appointment
Sunday and public holiday : closed
Useful information about your branch
---
Our fleet of campervans rental in La Rochelle
---
Hire a campervan in La Rochelle
Did you know? The phrase "set sail" literally means to raise a ship's sails. And there's no better place than our campervan hire agency in La Rochelle to set sail and head out on the open seas… or rather, on the open road! Hiring a campervan offers numerous adventures with local flavour. There's no doubt that you'll get to feel new feelings, meet new people, and just let yourself go. Renting a campervan in La Rochelle is the first step in an unforgettable adventure, whether it takes you out on the high seas or elsewhere.
With your campervan hire agency in La Rochelle, you have immediate access to an entire region and a new kind of adventure. Indeed, hiring a motorhome in the Charente-Maritime region allows you to travel all along France's Atlantic coast, going wherever you please and enjoying an invigorating natural setting. What could be better than renting a campervan in La Rochelle to explore, for example, the Marais Poitevin regional nature reserve, or to go island hopping between the emblematic Île de Ré and Île d'Oléron? Hiring a campervan in the Charente-Maritime region has never been easier and will help you discover, or rediscover, this region from a unique point of view.
But hiring a campervan in La Rochelle doesn't mean you have to stay in the Charente-Maritime region, incredible though it may be! The converted van rental agency in La Rochelle is an excellent starting point for exploring all of France's Atlantic coast, from Brittany (and the bay of Mont Saint-Michel—why not?) to the Bay of Biscay. Hiring a Volkswagen California van in La Rochelle can also take you from the Gulf of Morbihan to the Bordeaux countryside, from the Quiberon peninsula to the Pyrenees foothills—and let's not forget the beaches of the Vendée, Landes, and Basque Country regions.
Do you have bigger dreams than even that? Hiring a campervan in the Charente-Maritime region, departing from La Rochelle, is also a great way to visit all of southern, northern, and eastern Europe. In just a few hours of driving, you can quickly reach the Iberian Peninsula. On a long-haul campervan road trip, you can easily visit Italy, Austria, or, if you're feeling particularly ambitious, Scandinavia.
And don't worry: a long-term campervan rental is no problem. Our campervans for hire are perfectly equipped for long adventures on the road. Comfortable both while on the move and stopped for camping, our Volkswagen California campervans and Hanroad Trek 5 vans and their equipment will take you from point A to point B while also offering shelter for the duration of your odyssey from La Rochelle to the destination of your dreams. If you wish, you can add all sorts of accessories at your campervan hire agency in Charente-Maritime.
Our team of professionals at the WeVan La Rochelle campervan rental agency will be happy to help you plan your next van road trip.