Our minibus hire branch in Paris-Ouest (Conflans)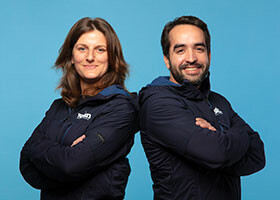 Details
40, rue Eiffel
78700 Conflans-Sainte-Honorine
Getting there
Branch opening hours
(may differ from online reservation times)
Lundi - Samedi : 09:00-13:00, 14:00-18:00
Dimanche et Jours fériés : sur rendez-vous
Useful information about your branch
---
Our fleet of campervans rental in Paris-Ouest (Conflans)
---
Hire a campervan in Paris-Ouest (Conflans)
Ready to enjoy nights out in nature, all your favourite sports activities, renowned cultural sites and exceptional regions? Then van hire in Paris-Ouest is your ticket to the perfect getaway just half an hour from the capital. Replace the daily grind with a different way of life: campervan hire, adventures and a great night's sleep. You'll still be driving when you get a campervan hire in Yvelines, but you'll be free to choose the destination!
Set off from the departure point that's just far enough from the hustle and bustle of the capital (around 30 minutes) with campervan hire in Paris-Ouest. It's the perfect location to quickly and easily get away from all the traffic and enjoy your road trip in a campervan. So where exactly is your campervan hire agency? You'll find us in Conflans-Sainte-Honorine, close to Cergy in the Yvelines, a stone's throw from the A15. After completing all the details for your van hire in the Yvelines, it'll only take three hours on the road to fill your lungs with the fresh sea breeze on Normandy beaches, admire the light reflecting off the famous Etretat cliffs or explore the forgotten Boucles de la Seine Normande regional nature reserve. Be sure to take time to fill up on Normandy cheese, starting with Camembert (including the cider or Calvados versions) and continuing on from there.

Or, head north after setting up your campervan hire in Cergy and let your heart lead you to the vast sandy beaches of Touquet and the surrounding area where you'll find tons of activity options. When you rent a campervan in Paris-Ouest (Cergy), be sure to bring all your water gear for a big gulp of sea air and a huge adrenaline rush from kitesurfing, windsurfing or land sailing! Head out with a campervan filled with equipment and soon your head will be filled with memories. Want to head west? Complete your campervan hire in Paris-Ouest and make your way to Brittany. Water sports fans will also love it here, but don't miss this opportunity to explore the beautiful towns and villages in the region. When you pick up your campervan rental in the Yvelines, you can visit Dinan, Saint-Malo and Mont-Saint-Michel, as well as the Gulf of Morbihan and the Quiberon peninsula. By the way, these are great places to do some shopping since a campervan hire in Paris-Ouest lends itself to a well-deserved aperitif once you've finally found your stopping point at the end of the day. How about a few oysters or other seafood and some cider? The menu is up to you.

For those dreaming of a trip further afield, campervan rental in Paris-Ouest is the ideal stepping stone for a road trip abroad. Why not take the Channel Tunnel or a ferry to visit Britain and Ireland, where winding roads leading to the famous windswept landscapes and stony heaths await in Connemara, as well as the high cliffs of Ben Nevis and the Scottish lochs. Belgium is just a few turns away, so campervan hire in Paris-Ouest can also take you to Bruges, Brussels and Gent. And then, while you're there, why not go just a bit further to the Netherlands or the Scandinavian peninsula? When you pick up your campervan rental in Cergy, even the Norwegian fjords are nearby! Choose your van from our campervan fleet: 2 berth campervan, 4 berth campervan or 5 berth campervan. There's a campervan hire for every group size!

Our team of professionals at the WeVan Paris-Ouest (Cergy) campervan hire agency will be happy to help you plan your next van road trip.