Our minibus hire branch in Quimper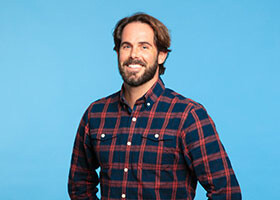 Details
19, Z.a. Penhoad Braz
29700 Plomelin
Getting there
Branch opening hours
(may differ from online reservation times)
Monday-friday : 09:00-13:00, 14:00-18:00
Saturday, Sunday and public holiday : by appointment
---
Our fleet of campervans rental in Quimper
---
Hire a campervan in Quimper
Whether you're headed to the seaside, the mountains, or the countryside, in France or elsewhere, hiring a campervan gives you access to practically any destination you can dream of. And what better place to start than our campervan hire agency in Quimper! Campervans for hire in Brittany offer access to limitless adventures through sublime and mystical lands.
When you think about travelling, you often imagine an exotic locale reached after several hours in an airplane. But the journey is so much sweeter when you make it your own, and France offers many fabulous destinations. With that said, nothing could be better than renting a campervan and taking a road trip to discover France's natural and historical treasures. For example, hiring a campervan in Quimper gives you the possibility of exploring the Armorique regional nature reserve like you've never seen it before, or exploring the Brittany coast from the Bay of Mont Saint-Michel (OK, maybe not technically in Brittany) to the superb towns of Dinan and Saint-Malo, all the way to the Gulf of Morbihan and the Brière regional nature reserve. After you've seen the entire coast, a campervan hire in Quimper is also a great way to explore the sublime woodlands of Brittany, especially the Brocéliande Forest with its mystical aura.
And while hiring a motorhome in Brittany is great for nature lovers, it's also perfect for adrenaline junkies and fans of all kinds of outdoor activities. Hiring a Volkswagen California campervan in Quimper, equipped with a roof rack, is the perfect way to strap on your surfboard and head to the beach. As a passionate, experienced surfer, Anthony, the manager of our campervan rental agency in Quimper, will be able to direct you to his favourite surf spots so that you can catch the perfect wave. What's more, hiring a converted van in Brittany doesn't limit you to this region alone, my dear surfers: take your hired campervan on down to the coast of Landes and Basque Country! If you prefer to visit festivals, there's nothing better than hiring a campervan in Quimper to attend Les Vieilles Charrues music festival in Carhaix-Plouguer, the Inter-Celtic Festival of Lorient, the Bout du Monde music festival in Crozon, or, further to the south, the Hellfest heavy metal festival in Clisson. When you hire a campervan in Brittany, you can take full advantage of these free-spirited celebrations with a guaranteed roof over your head for the entire duration of the festivals.
Renting a campervan in Brittany guarantees un unforgettable experience, whether you want to explore this region from a new perspective or set your sights higher and farther. Our accessories (bicycle racks, roof racks, etc.), which you can add at your campervan hire agency in Quimper, as well as the comfort of our VW California vans, will allow you to enjoy the beaches and forests of Brittany, as well as many other incredible locations, while having peace of mind that you won't be caught without shelter in the highly unlikely event of a rainy evening.
Our team of professionals at the WeVan Quimper campervan rental agency will be happy to help you plan your next van road trip.