Our minibus hire branch in Nantes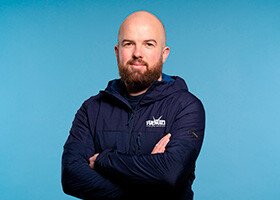 Details
16, rue des Saules
44800 Saint-Herblain
Getting there
Branch opening hours
(may differ from online reservation times)
Monday - friday : 09:00 - 18:00
Saturday : 09:00 - 17:00
Sunday and public holiday : closed
Useful information about your branch
---
Our fleet of campervans rental in Nantes
---
Hire a campervan in Nantes
Hiring a campervan in Nantes opens the door to a perfect road trip that you can design any way you please. Head towards Brittany to experience the sea spray, rugged coast and unique character, and towards Vendée further south to explore its long, endless beaches along the ocean. And if you prefer inland calm, turn towards the east to head up the Loire Valley, where you can explore its rich heritage and terroir.
Your We-Van Nantes agency is right in the centre of the Pays de la Loire and Loire-Atlantique regions. We offer a wide range of campervans for hire, featuring brands that are well-known in the vanlife universe, like Volkswagen and Mercedes.
The two-bed Volkswagen Caddy Minicamper is perfect for young couples. It's a lovely little cocoon and an ideal vehicle for exploring southern Brittany. Brittany has unforgettable locations like the Gulf of Morbihan, the Quiberon peninsula and Belle-Ile, which has certainly earned its name. Brittany is also a land of legend and mystery, filled with menhirs and dolmens, and enchanting places like the Brocéliande forest and Monts d'Arrée. If you are traveling as a family or with friends, renting an iconic Volkswagen California or a luxurious Mercedes Marco Polo gives you space for four passengers since both have two double beds. You may want to head out from the We-Van Nantes agency for a jaunt in the Vendée region to explore its wide beaches along the Atlantic ocean. You'll have opportunities to enjoy all kinds of nautical activities like surfing, kite surfing, windsurfing and more. And for those who don't have their sea legs, there are hundreds of miles of hiking trails, bike paths and horse trails awaiting them. At the end of the day, you'll park your mini rental camper in one of the nightspots along your route and enjoy a well-deserve aperitif with a glass of Muscadet or Mélusine, a local beer. After a good night's sleep in your campervan and a good Vendée brioche for breakfast, you'll be ready for new adventures. If you want to amuse your kids, make a detour to the famous Puy du Fou. Another itinerary awaits you to the east of Nantes. This one takes you to Anjou, Saumur-Champigny, Savennières, Côteaux du Layon, and the Loire Valley with its many chateaux and famous vineyards. Even though it will be hard, you'll want to temporarily leave your campervan behind to set sail on the Loire river in a Toue Cabanée, a boat typical to the region. Or take a bike out on one of the towpath bike trails.
Our team of professionals at the We-Van Nantes rental agency will be happy to help you plan your next campervan adventure.