Dordogne-Périgord by campervan
Dordogne-Périgord by campervan
June 26, 2019

Périgord is a former county approximately stretching within the actual limits of the Dordogne department, in the Nouvelle-Aquitaine region. Its variety of authentic towns and villages, castles and caves and the many outdoor activities offered, make it a destination of choice. And even if you have already visited this splendid region, exploring it with a campervan is a totally different experience.
Périgord can be divided into four areas : White Périgord at the center, around Périgueux, Dordogne's main town ; to the North is Green Périgord with Brantôme also known as the Venice of the region ; Purple Périgord in the South-West around Bergerac, and Black Périgord to the East surrounding the famous Sarlat la Canéda. The whole region is watered and shaped by the Dordogne, Vézère, Isle and Dronne rivers offering many water activities such as rafting, swimming, fly fishing. The boldest will enjoy rock climbing on the cliffs that overlook the river. Look for more information on Périgord Escalade website, Club Alpin Français of Sarlat and Black Périgord.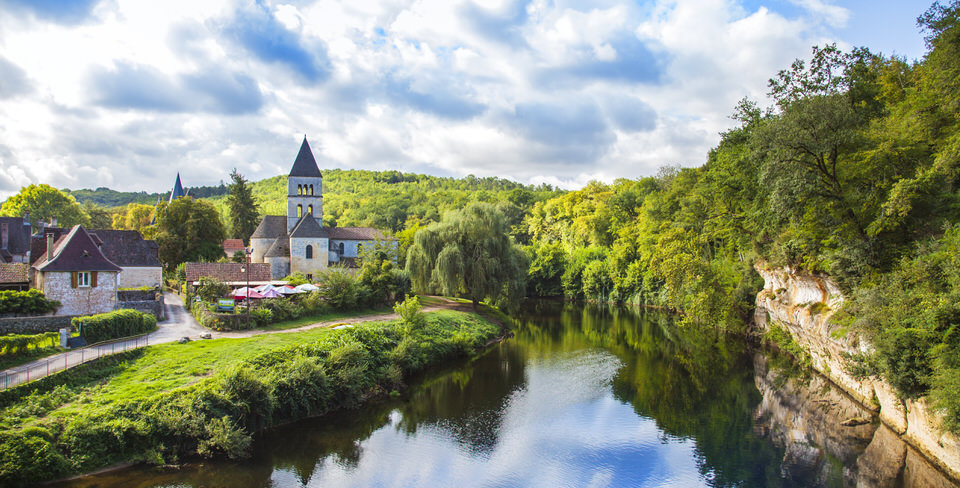 Don't miss a go in a gabare trip (a traditional boat) on the Dordogne river. Though it can sometimes be very touristy, it is worth drifting along several of France's Most Beautiful Villages such as Domme, La Roque-Gageac, Beynac-et-Cazenac, pepperred on just a few kilometres. On your way, watch out for the impressive fortresses of Castelnaud and de Beynac and the magnificent Château des Milandes. If you are prone to seasickness, fly away in a balloon for an unforgettable flight over the valley. You don't want to miss Monpazier, one of France's Most Beautiful Villages. You'll enjoy strolling along the main square arcades of this typical « bastide », or along Belvès' troglodyte houses. Or yet in Saint Amand de Coly's 12th century Abbey, and in Saint Léon sur Vézère which literally overlooks the river Vézère, not to forget Limeuil lying at the confluence of the Dordogne and the Vézère rivers.
Périgord is also known for its prehistorical sites : the first cave paintings discovered in the Font de Gaume and Combarelles Caves at Eyzies de Tayac, the famed Lascaux Cave, or Rouffignac cave, are but a few of the 15 World Heritages Sites located in the Vézère Valley only. If you're not afraid to go underground, descend in a basket to the bottom of Proumeyssac Abyss, dubbed the « crystal cathedral ». Stunning! If you prefer blue sky and greenery, visit one of the wonderful gardens of the region, the Marqueyssac Gardens or the much reputed Manoir of Eyrignac's Garden, a fine example of French formal gardens, not to forget the « Jardins de l'Imaginaire » in Terrasson-Lavilledieu or else, the Planbuisson Garden and its bamboo groves.In your campervan, you will have a front row-seat to enjoy the landscapes while sampling reknown local products such as « foie gras », truffles, boletus mushrooms, duck confit, Bergerac wines... (the latter to be consumed moderately, and no going back driving !) You won't come back thinner from your travels in Périgord, unless you eliminate calories by hiking or riding on the region tracks, particularly in the regional natural Park of Périgord-Limousin, in the North of the Dordogne department. Not far away, have a look at the awsome Hautefort Castle or watch the water games on the Dronne river in Brantôme every Friday night in July and August.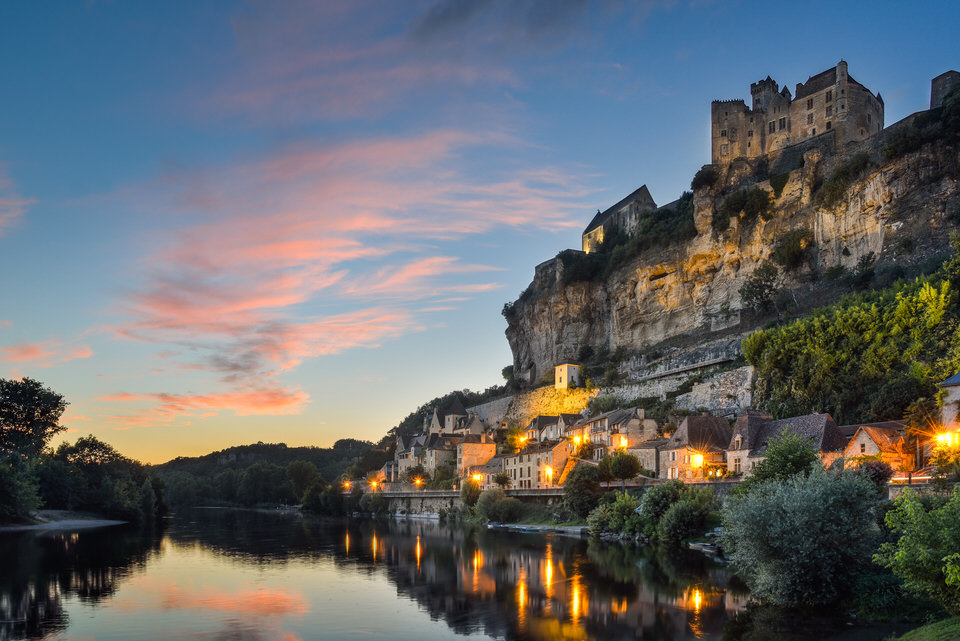 And if your longing for discovery and adventure in a campervan is not totally satisfied with all these offerings, you can be unfaithful to Dordogne once, and cross over A20 highway near Brive la Gaillarde and head to other jewels : Collonges la Rouge in Corrèze, Rocamadour and the Padirac Abyss in the Lot department.We suggest you set off on your campervan adventure in Dordogne-Périgord from our WeVan rental location in Bordeaux.
Further reading
Explore other vanlife articles to start travelling before renting a campervan!