An Alsatian weekend by campervan
An Alsatian weekend by campervan
July 15, 2019

Alsace. It would be hard to encapsulate the many diversities of this region in a few words only. The best way to discover these remains renting a WeVan campervan and setting off in total freedom over an extended weekend, or better yet a whole week. For those lucky ones who can extend their trip in Campervan, Alsace can be the starting point to other adventures in the Vosges and Jura regions, in Switzerland or in the Black Forest in Germany.
From the Basel-Mulhouse WeVan agency, it will take you about half an hour to reach the Alsace Wine Route in Thann. From there, just let yourself drift along the neat and lovely villages spreading up to Marlenheim. Four of France's Most Beautiful Villages, easier to find than to spell, are scattered along the Wine Route : what with their colorful half-timbered houses, Eguisheim, Riquewihr, Hunawihr et Mittelbergheim, are typical of Alsace architecture. Many houses are covered with flowers, geraniums in particular, which is an Alsatian symbol just like the famous storks.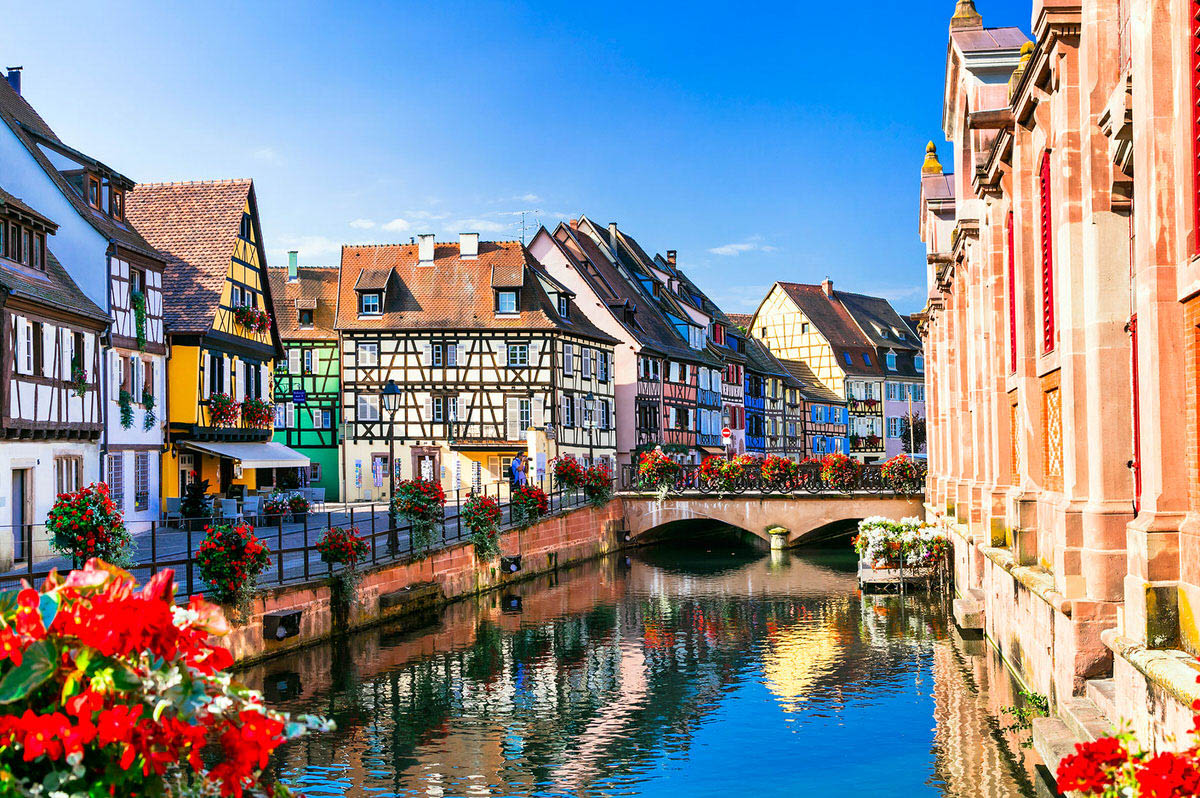 Alsace strategic position spurred the building of many fortified castles on top of rocky outcrops overlooking the Alsatian Plain. Lots of them, ruined or restaured, are open to visitors and worthy of a detour, such as the Hohlandsbourg Castle, Lichtenberg Castle, Haut-Barr Castle and best known among them, the Haut-Koenigsbourg Castle. A WeVan tip for you to reach this crowded touristic landmark is to park your campervan in Saint-Hippolyte village and hike your way up to the castle. Should you want for a spiritual moment, don't hesitate to detour to Oelenberg Abbey in Reiningue, near Mulhouse, Murbach Abbey, 6hm away from Guebwiller. Or go on a short hiking pilgrimage to Notre Dame du Schauenberg Chapel from Pfaffenheim. On your way, you will be rewarded with a splendid view on the Alsatian Plain from a panoramic terrace.
Amateurs of city bustle, an existing specimen among campervan professional adventurers, will be fulfilled with the visiting of Colmar and Strasbourg. With entire districts of half-timbered houses, and canals all over, these two concentrate the real essence of Alsace's spirit. A Colmar district also known as the Little Venice, though a bit too touristy for a worshiper of vanlife's quietness, will be worth a stroll nevertheless. Go and visit the Unterlinden Museum and the awesome Issenheim altarpiece, or the Bartholdi Museum, dedicated to the creator of New York's Statue of Liberty who was actually born in Colmar. And if you've missed up stocking up bottled souvenirs directly from the vineyards, you can make up for the loss at the Alsace Wines' House in Colmar. In Strasbourg, you will delight in a typical Alsatian canals district called « La Petite France ». This nickname doesn't stem from a jingoistic stance but from the name of a former institution dedicated to Syphilis sufferers, syphilis being known in the past as « the French disease ». The district kept the name of the institution after it disappeared, but this shabby origin didn't prevent the « Petite France » to be elected a World Heritage site. In Strasbourg, don't miss out Notre Dame de Strasbourg Cathedral, built in pink sandstone, a unique hue among French cathedrals. Inside, discover or revisit many of its wonders as the 16 « petals » rose window (as opposed to 12 in most other cathedrals), the monumental piano organ and an astronomical clock. Strasbourg is also a modern city, thanks mostly to the aura of the European Parliament which seat you can visit.
We saved the best for last, that is Alsatian gastronomy, a fairly rich one for that matter, both literally and figuratively ! On the top position you've got Sauerkraut with assorted meats, but also Flammekueche (a flame-grilled tart), Baeckeoffe (an Alsatian stew), Riesling Coquerel… to be served with a good Alsatian Wine from reputed vineyards such as Sylvaner, Riesling or Gewurztraminer. Whatever you do, don't hit the road again with your campervan after such a feast…unless you only tasted the wines with your eyes … Take a Kouglof away with you on your campervan road trip so you can bite into the brioche all along the journey. If you wish to eliminate and stretch your legs, there are many hiking tracks or try a ride on one of the three EuroVélo ( pan-European bike paths ) going throughout Alsace, especially the EuroVélo5, renamed the Alsacian Vineyard Veloroute because it runs parallel to the Wine Route: rather handy if you happen to van-travel this Wine Route.
We suggest you set off on your campervan adventure in Alsace from our WeVan rental location in Basel-Mulhouse.
Further reading
Explore other vanlife articles to start travelling before renting a campervan!