Bavarian trip in a campervan
Bavarian trip in a campervan
June 27, 2019

Bavaria is often associated with beer, sausages, and Ludwig II of Bavaria and his lush castles, but even though all part of the picture, this German bit of land is bountiful with many natural treasures, architectural beauties and numerous outdoors activities. The best way to discover its diversity is letting youself wander its lovely winding roads, behind the wheel of a WeVan rental campervan, needless to say.
Your Bavarian road trip starts off in Lindau, on the shores of Lake Constance, only 2 hours and a half from the WeVan basel-Mulhouse agency after crossing Switzerland. Lindau will set the tone of your trip right away. Its historical center entirely spread on an island on Lake Constance, is linked to the shore by two bridges. There are lots of reasons to be seduced by Lindau. You will delight in its painted-gables houses, so typically Bavarian, its little port heralded by a big lighthouse and a statue of a sitting Lion (Bavaria's symbol), and also, the sweeping views of the Swiss Alps … as many arguments to attract travelers… maybe too many for a van traveler who will find a more tranquil atmosphere by hiking or biking on the lake shores' built tracks.
Lindau is the gateway to the Alps' German Road. This 450 km touristic route leads you to Berchtesgaden, east of Bavaria, near the Austrian border. You'll drive past bucolic landscapes, meadows full of wild flowers, villages and townlets such as Oberstaufen and Immenstadt, in Allgäu where you can go sledding down the 63 bends of the Alpsee 3 km slope, open all year round. Guaranteed thrills for big and little ones, in complete safety! You are starting the romantic part of your visit by automatic Volkswagen campervan : the land of Ludwig II's castles. The best-known among them is Neuschwanstein Castle, the very peculiar Neo-Gothic castle towering over the top of a 200 m high rocky outcrop overlooking Füssen and Schwangau villages. With both Neuschswanstein and Hohenschwangau Castles in the background, many outdoor activities such as paragliding, hot-air balloon, horse-riding, hiking are on offering as well as sailing on Lake Forggensee at the castles foot.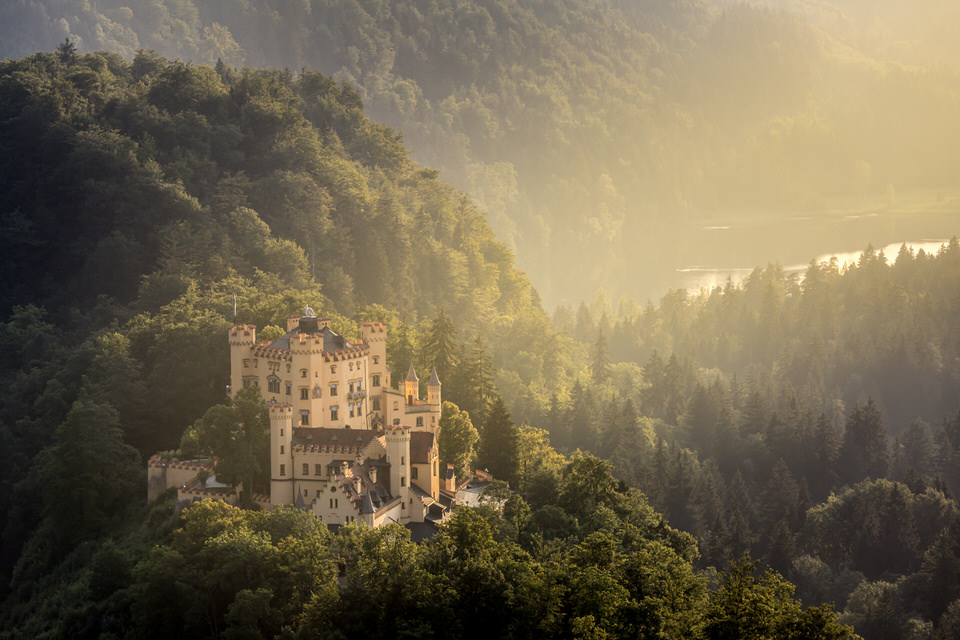 When your romantic and athletic jaunt is over, drive on board your campervan to the must see Wies Church, a baroque masterpiece. Then head to Garmisch-Partenkirchen ski resort, at the base of Germany's highest peak, the Zugspitze (2 962 m). It was in Garmisch that the 1936 Olympic Games took place. While in the neighbourhood, don't miss the Alpspix panoramic platform on top of Osterfelderkopf peak which you can reach by the Alpspitzbahn cable-car. From there, you will enjoy a breathtaking view from a 1000 metres steep incline. Go and discover the Partnach Gorges or have a stroll in Mittenwald, one of Bavaria most beautiful villages and don't miss the frescoes painted on its one-hundred-year-old houses … From Mittenwald, you could go for a jaunt in the Austrian Tyrol. Innsbruk is less than an hour away.
Back on the Alps' German Road, you'll be going along several lakes : Lake Tegernsee, Schliersee and Spitzingsee Lakes and lastly Lake Chiemsee. Another Ludwig II's castle, Herrenchiemsee New Palace, built after the Palace of Versailles, is sitting on the latter's shores. All these lakes' names ending with a « see » will make you understand that the German word for lake is see. If you keep heading east with your WeVan rental 2 berth campervan, you'll arrive in Berchtesgaden. Music lovers can go on a pilgrimage to Salzburg, in Austria, only one hour and a half away. To end your Alps' German Road's trip on a high note, stop awhile in the charming Schönau am Königssee resort on the shores of Lake Königsee in the Berchtesgaden Nationalpark (no need for translation…) where the actress Romy Schneider spent her childhood.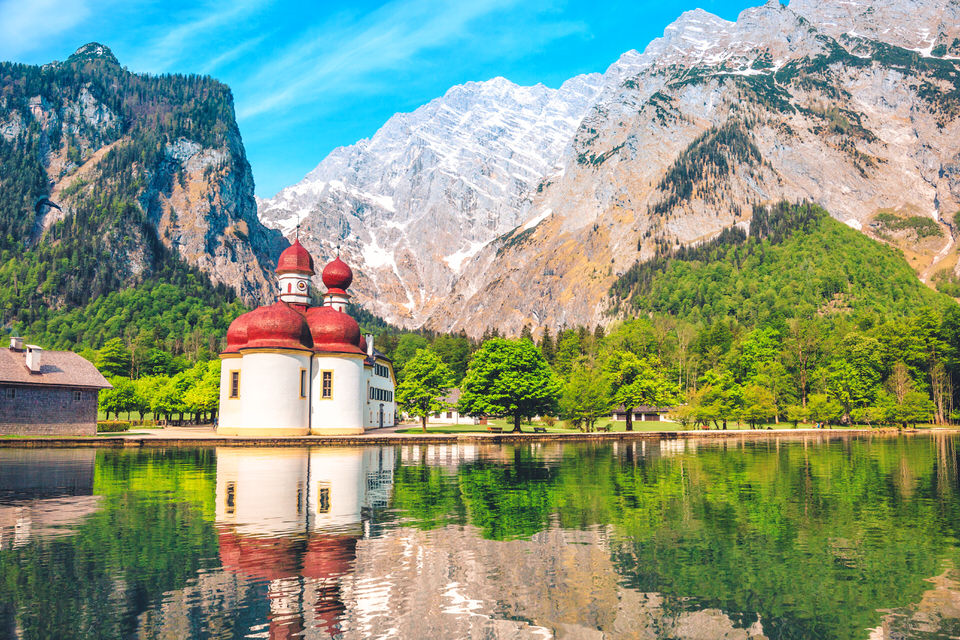 On your way back, stop in Munich for the famous Oktoberfest « crime scene » where beer flows by the gallons night and day … And even if you don't happen to visit Munich in October, indulge yourself with a « mass », a one litre mug of beer ! After such an « alcoholic » escapade, you'll be strictly forbidden to drive. But Munich should definitely not be summed up to beer or a famed soccer team. You'll be enticed to go for a stroll in the city center, if only for the sake of listening the town hall bells on the Marienplatz or go for a last stock up on local products in Viktualienmarkt market.
We suggest you set off on your campervan adventure in Bavaria from our WeVan rental location in Basel-Mulhouse.
Further reading
Explore other vanlife articles to start travelling before renting a campervan!