Hire a campervan in Corsica
Whether you'd prefer to relax on the Island of Beauty's stunning beaches or pack your days full of adventure, renting a campervan in Corsica is by far the best way to escape to this little corner of paradise.
WeVan branches near you
Must-see spots for your campervan hire in Corsica
From the sandy beaches that border the Riviera to the villages perched up on the mountains, Corsica is teeming with treasures. Renting a van in Corsica is without doubt the best option; here there is something for everyone, whatever your schedule.
Porto-Vecchio and surrounding area
Take advantage of the town, with its array of restaurants, or the magnificent beaches of Palombaggia or Santa Giulia just a bit further on. Relaxation, water sports or both – it's your choice!
Bavella
For a beautiful hike and front-row seat to the famous Aiguilles de Bavella. After which you can find a great spot surrounded by nature for a night of authentic van life!
Evisa and the Forest d'Aïtone
The charming village of Evisa makes an excellent base camp for visiting the surrounding area. Sublime forests, natural swimming and wildlife await you.
Abandoned village of Occi
Not far from the Ile Rousse, an accessible hiking route leads to the abandoned village of Occi. A magnificent location with views to match.
The bravest adventurers might attempt to cross it on foot via the famous GR20, and we take our hats off to them, but for those who would like to vary the pleasures, or take an easier path than the 180 kilometres of the GR20, renting a campervan in Corsica might just be the perfect choice.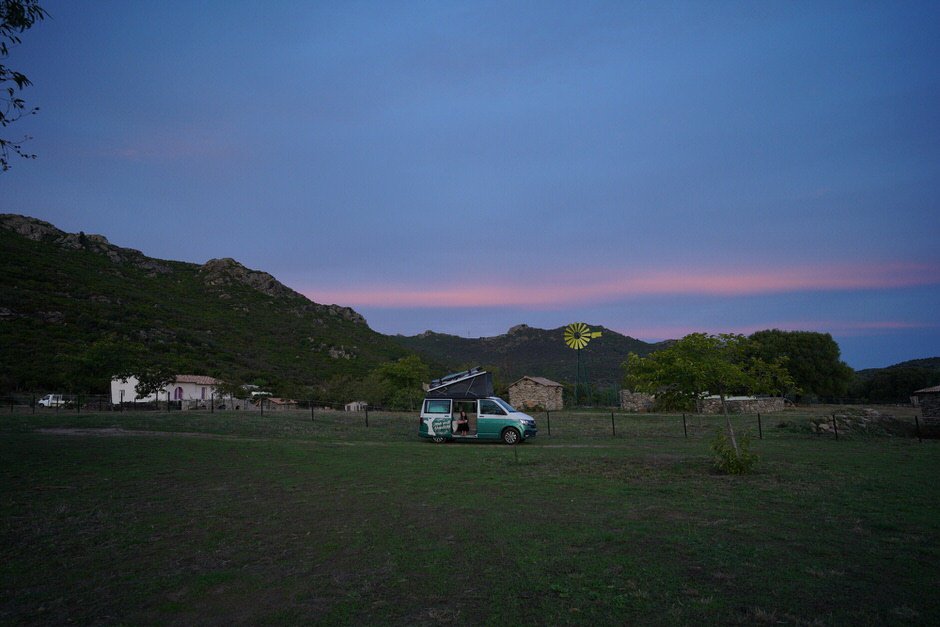 Though it's worth mentioning that renting a campervan in Corsica doesn't mean missing out on the joys of hiking or even climbing, far from it. In fact, it lends itself perfectly to this, our campervans double as mobile base camps where you can store your equipment and your snacks (out of the sun!), get the camping chairs out for a break in the shade, or even freshen up after exercise thanks to the unmatched luxury of the external shower (depending on the model). Thanks to a van rental in Corsica, you're able to roam along as many paths as you like, from one day to the next, without having to carry 20 kilos on your back!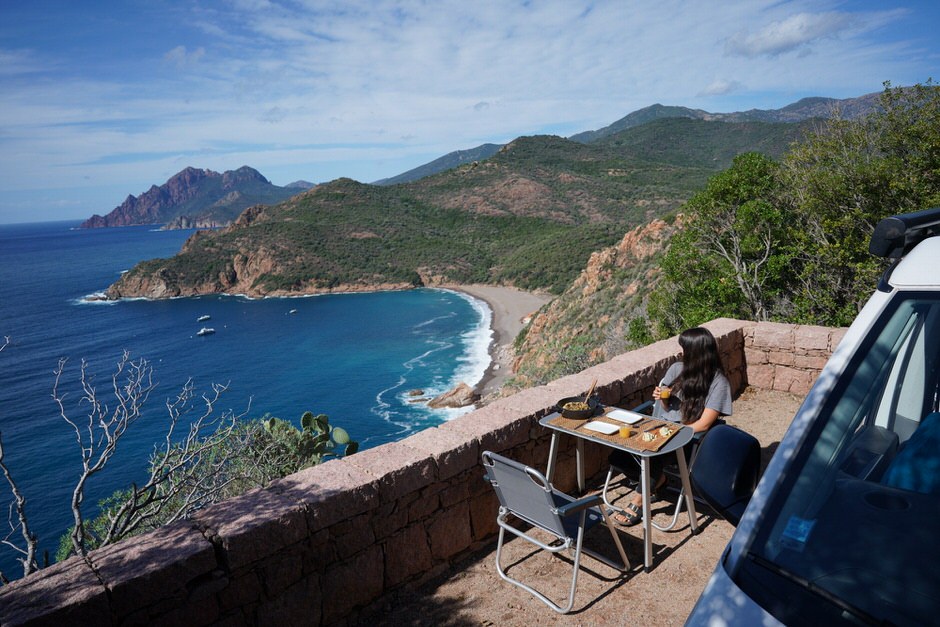 And what could compare to a day of sweating, climbing and enjoying the most beautiful panoramas of the island, followed by a stop on a stunning beach, recovering with a swim in clear, fresh water! Hiring a van in Corsica allows you complete freedom to follow your own path.
Of course, a campervan rental in Corsica doesn't necessarily mean a road trip. The winding roads make even the shortest drive an experience, as the views that appear at the slightest turn will take your breath away. Let the road be your guide. This can be the best way to unearth gems such as the impressive villages of Nonza, Sant'Antonino or Centuri. A driver's dream that will often entail unusual encounters: expect to see (semi) wild pigs and wandering goats crossing in front of your wheels!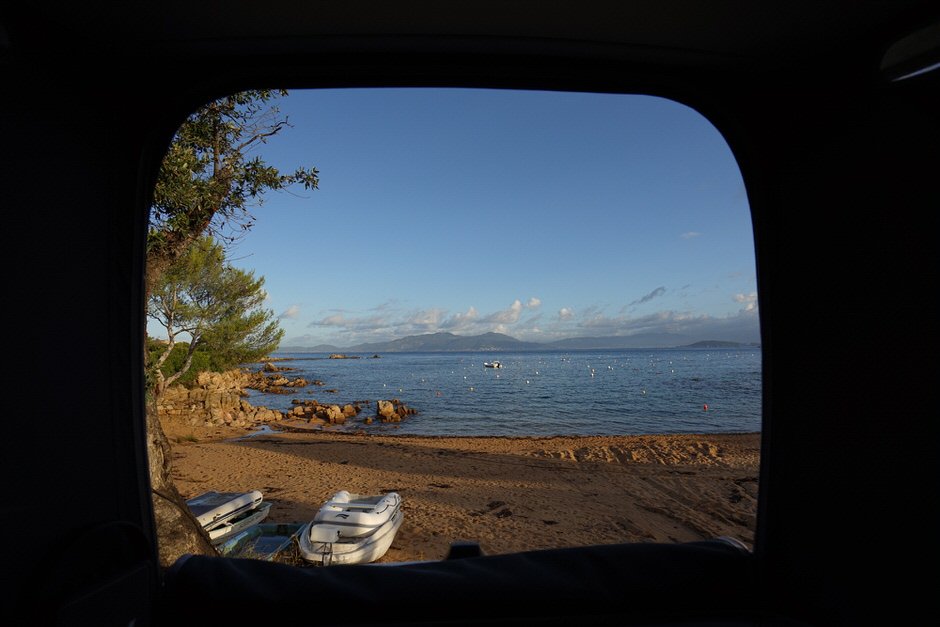 On that note, don't miss the chance to discover the producers of local products along the way, and make every meal an exceptional gourmet experience. Endless products like coppa corse, figatellu, brocciu and chestnut jam add flavour to your trip, from breakfast to aperitif. Thanks to the van's fridge, you can even keep your treats fresh throughout the road trip or bring some things back home.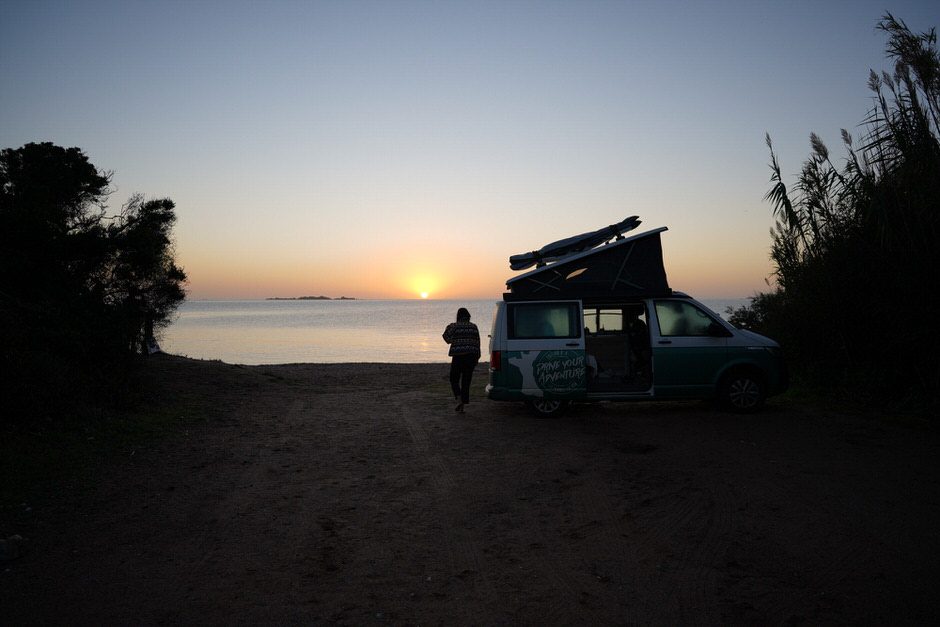 Perhaps more importantly, hiring a van in Corsica allows you to experience the feeling of total freedom and unrivalled solitude in the heart of one-of-a-kind wilderness. Long, warm evenings on the Island of Beauty will be home to so many priceless memories like being lulled by the sounds of the local fauna or the ocean waves or intoxicated by the unique fragrance of the maquis shrubs. Hire a van in Corsica and experience a trip unlike any other. Until your second trip that is!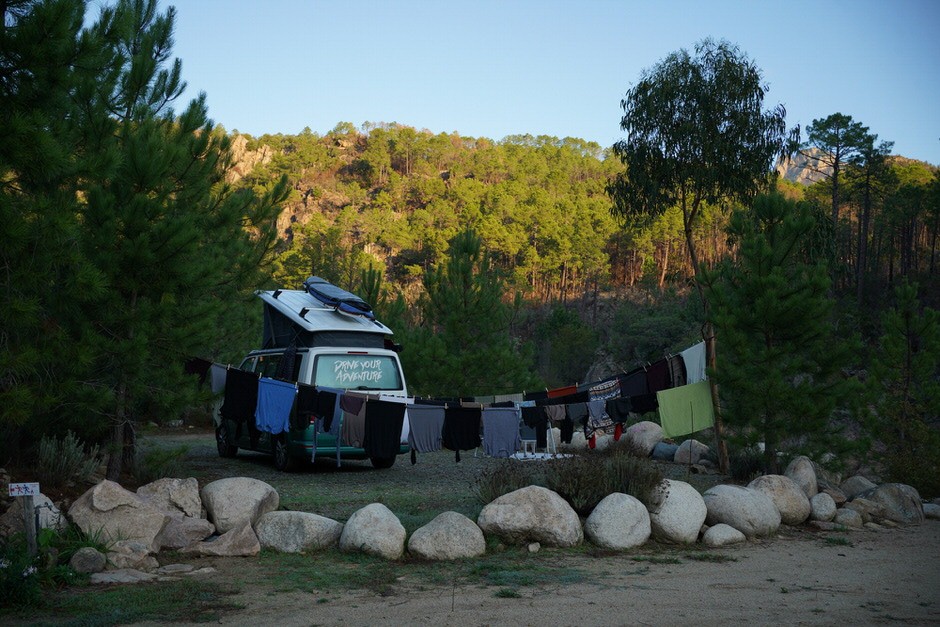 Your campervan adventures in Corsica